If you've been looking into having facial plastic surgery, you know there are many different procedures to choose from. Each one has its benefits, so it's important to know what to expect from each one so that you get the results you're looking for.
A facelift, neck lift, and mini lift can all enhance your appearance and make you look years younger. But, each procedure is different in how it can benefit you. Let's take a look at the differences.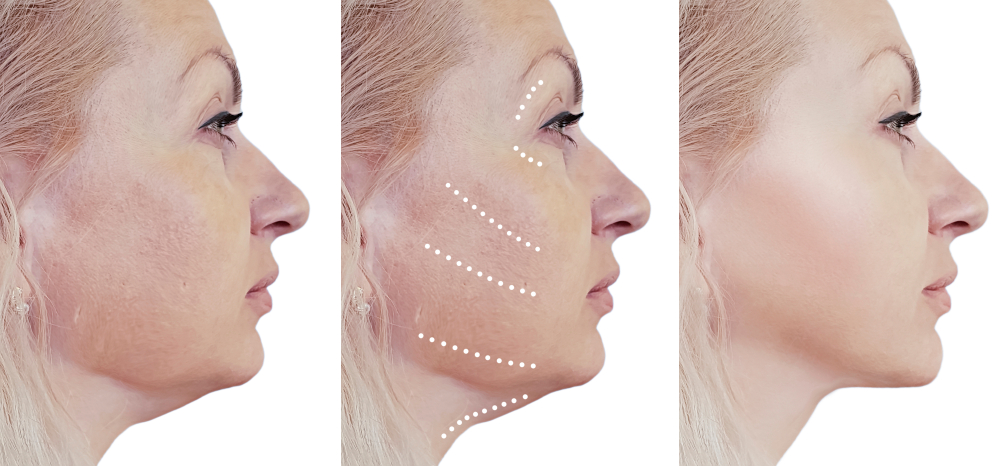 What Is a Facelift?
A facelift aims to fix issues like lost collagen and elasticity that can lead to the fat beneath the skin to atrophy. When this happens, we get saggy looking skin that can make our face look more hollow. It can also make the jowls and neck skin more noticeable. A facelift tightens the skin and soft tissues from the cheekbone to the collar bone.
During the facelift procedure, incisions are made in natural creases in front of and behind the ear. By choosing these areas, the incisions are less noticeable. The skin is then elevated off of the underlying soft tissue structures. The tissue is then redraped and the excess tissue is removed. The better a patient's bone structure and skin quality, the better the results will be.
A facelift can take anywhere from 2-5 hours to complete and patients go home the same day. It can be done under conscious sedation or general anesthesia. Recovery time is between 10-14 days, after which patients typically can return to work but may still be restricted with some physical activity.
People anywhere from ages 35-65 typically opt for a facelift with the optimal age being 45-50. The best candidates tend to be non-smokers and those without health problems that may impact recovery time.
What Is a Mini Facelift?
A mini facelift can still make you look years younger, but it often involves much shorter incisions and will not involve a neck lift or brow lift. During a mini facelift, smaller incisions are made and the skin around the mid-face area of the face is lifted instead of the skin of the entire face. 
Because the incisions are smaller and less skin is being lifted, the effects of a mini facelift are not as dramatic as in a regular facelift. Mini facelifts are usually recommended for people with mild to moderately sagging skin. The procedure can usually be done in about two hours under conscious sedation or general anesthesia. The recovery time with a mini facelift is typically less than with a full facelift with patients typically recovering within 3-7 days. 
Another thing to note with a mini facelift is that they are typically recommended for people under the age of 50. People in this age group typically have less saggy skin than those in older age groups and will benefit from a mini facelift more.
What Is a Neck Lift?
While facelifts and mini facelifts focus on the entire face, a neck lift just focuses on the neck. If you look in the mirror and see sagging skin around your neck and jowls, you may be a good candidate for a neck lift. Many patients often refer to having a "turkey neck" as one of the reasons why they want to get a neck lift.
During a neck lift, the skin and soft tissues along the jawline and neck are tightened to give a more youthful appearance. Just as in a facelift, the skin is elevated off of the underlying soft tissue and then re-draped with the excess skin being removed.
Neck lifts can also take anywhere from 2-5 hours and can be done under conscious sedation or general anesthesia. Recovery time is anywhere from 10-14 days.
If you are considering facial plastic surgery, it's important to have a clear idea of your expectations and to convey these to your surgeon. This way, there is a greater chance of you getting the results you want. Your plastic surgeon will also advise you which procedure will be best for you and give you the results you want.
Contact Us
Whether you're considering a facelift, mini lift, neck lift, or are not sure which procedure is right for you, Dr. Keith Ladner can help. Dr. Ladner has extensive experience in all three types of these surgeries. He is double board-certified by the American Board of Facial Plastic and Reconstructive Surgery as well as the American Board of Otolaryngology/Head and Neck Surgery. He will gladly answer any questions you have and recommend the best procedure for you. Call today at (303) 253-7686 or go online to schedule a consultation.