Rhinoplasty
If you're looking for a rhinoplasty specialist, double board-certified facial plastic surgeon Dr. Keith Ladner is at the top of the list in Parker, Castle Rock, Greenwood Village, Colorado Springs, and throughout the Rocky Mountain region. Every year, he performs hundreds of rhinoplasty (nose job) procedures at his practice in Denver, CO. Rhinoplasty is one of the most complex cosmetic surgery procedures, so it's important to select a surgeon such as Dr. Ladner who has extensive training, experience, and a track record of excellent results.
What Are the Benefits of Rhinoplasty?
Rhinoplasty objectives include:
Reducing an excessive dorsal hump for an attractive profile
Improving the shape and definition of the nasal tip (reducing a bulbous tip)
Narrowing wide nostrils
Reducing excessive length
Improving poor projection
Straightening a crooked or previously broken nose
Besides aesthetic changes, rhinoplasty can help improve breathing for patients with obstructed nasal passages. Nasal passages may be obstructed by a deviated septum or because of trauma to the nose. When Dr. Ladner combines cosmetic changes with breathing improvements, the procedure is called functional rhinoplasty.
Is It Better To Have Open or Closed Rhinoplasty?
Patients often ask which technique is better, but the answer depends on the specific reasons for the surgery. Here is a comparison:
Closed Rhinoplasty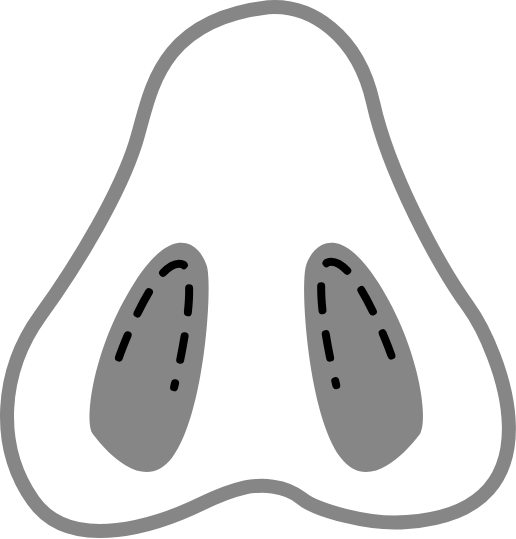 Closed rhinoplasty: Using this technique, plastic surgeons don't make any external incisions. Instead, they make changes to the cartilage, bone, and septum through incisions within the nostrils.
Open Rhinoplasty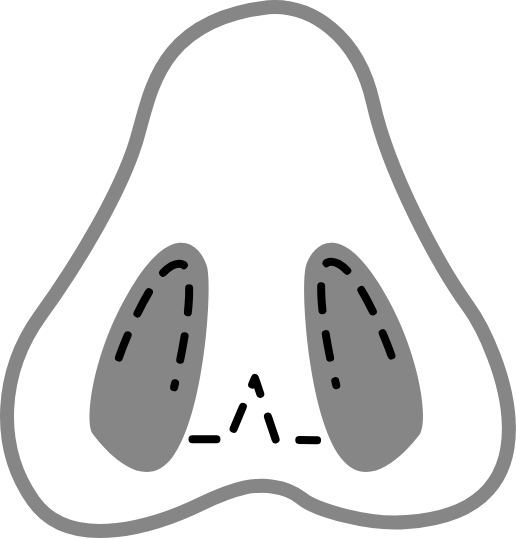 Open rhinoplasty: In this approach, plastic surgeons make 2 incisions inside the nostrils and a third incision along the thin strip of skin separating the nostrils (the columella). This provides them direct access to the structures of the lower nasal anatomy.
The Benefits of Closed Rhinoplasty
Dr. Ladner is proud to call himself a closed rhinoplasty specialist and expert. After performing more than 2,000 rhinoplasties in his career, Dr. Ladner offers insight as to why this is the preferred approach for a rhinoplasty procedure.
Quicker healing time: The healing time after an open rhinoplasty can take up to 3 years. This is because the skin is completely elevated off the nasal structure, and it disrupts important vasculature and lymphatic pathways. Healing after rhinoplasty involves the patient's nasal skin shrinking to match the new smaller bone and cartilage structure. An open rhinoplasty procedure significantly delays this process. The majority of closed rhinoplasty patients should expect to see their final results after 6 to 9 months.
Less risky: One of the biggest disadvantages of the open rhinoplasty approach is that the surgeon is unable to control how the skin heals after the procedure. Lifting the skin completely off the nasal structure during open rhinoplasty creates a scenario where the skin may not heal or contract equally across the nasal structure. This can lead to unforeseen asymmetries, contour irregularities, and suboptimal results.
It's scarless: Dr. Ladner makes all incisions inside the nose during a closed rhinoplasty, so there are no visible scars. Contrast this with the open approach, which involves an incision at the base of the nose that may leave signs of having had a nose job.
A closed approach isn't the correct technique for all patients, though, and Dr. Ladner creates customized surgical plans based on each patient's facial anatomy and cosmetic concerns. He may recommend combining rhinoplasty with chin augmentation, buccal fat removal, or other procedures to enhance the balance between your facial features.
What Happens During the Rhinoplasty Consultation?
The path to successful rhinoplasty results starts when you first contact Dr. Ladner's office. At that point, we gather as much relevant information as possible so we understand your specific concerns even before the initial consultation. During the consultation, Dr. Ladner listens as you describe your cosmetic goals and what bothers you about your nose.
Dr. Ladner conducts a thorough physical exam of both the internal and external nasal structures and addresses any history of trauma to the nose or breathing issues that might need correction. His attention to detail includes knowing if you are bothered more by the front view or profile view of the nose (or if it's equal) and if you notice asymmetry when looking at photos.
How Is Dr. Ladner's Approach to Rhinoplasty Different?
Having trained under one of the world's leading rhinoplasty surgeons, Dr. Ladner learned the value of assessing each patient's unique concerns through an objective scientific view and using a calculated, problem-solving approach when creating a customized surgical plan.
What does that mean?
Measuring all facial proportions and dimensions
Conducting a detailed analysis of the nose using photos taken from the front, profile, and base views
This comprehensive, thorough assessment typically takes about 25 minutes and ensures that an objective analysis matches what patients themselves see.
'Second to None—Just Brilliant'

"Dr. Ladner is the most exceptional plastic surgeon in Colorado… He is a true artist and absolute perfectionist when it comes to facial surgery, evident in the beautiful result of every one of his patients. Dr. Ladner performed my rhinoplasty a week and a half ago, and I can already say without an ounce of doubt that this has been the best decision I have ever made…"

5-Star RealSelf review, DenverKate
Step-by-Step Explanation of What To Expect
Dr. Ladner firmly believes in educating you about what happens during and after your procedure. He explains the journey and what to expect during the recovery and the post-op care either you or your loved ones will provide. On the day of surgery, Dr. Ladner arrives early to go through your surgical plan and answer any last-minute questions that you might have.
Most important during the surgery itself is Dr. Ladner's attention to the technical details and being meticulous and deliberate. Getting great results that don't require revision surgery is the primary goal.
Who Is a Good Rhinoplasty Candidate?
Anyone concerned about the size or shape of their nose can benefit from cosmetic nose surgery. Teenagers (whose noses are no longer growing) and women and men in their 20s and 30s are the most common rhinoplasty patients, but the procedure can be performed on people into their 70s or 80s.
What Is Septoplasty?
Some patients may have trouble breathing because they have a crooked or deviated septum—a bony structure that also includes cartilage. Surgically correcting this condition is called septoplasty. Dr. Ladner performs septoplasty by making incisions in the nose and removing crooked portions of the septum and then straightening them and placing them back in their natural position.
What Is a Nonsurgical Nose Job?
If you would like to improve the shape of your nose without surgery, Dr. Ladner can perform a nonsurgical nose job, also called a liquid rhinoplasty, using dermal filler injections. Although this procedure cannot make your nose smaller, it can smooth out the bridge, reshape the tip, and soften sharp angles. While surgical results last indefinitely, results of a nonsurgical nose job are temporary. Learn more in this blog post.
What Happens During Rhinoplasty Recovery?
Rhinoplasty patients are often pleasantly surprised to discover that recovery is easier than they expected. While experiences vary, notable milestones include:
Minimize swelling and bruising: The degree of swelling and bruising varies with the specifics of each surgery. You can minimize these side effects by keeping your head elevated at all times (even while sleeping) and applying cold compresses to your cheeks as directed for the first few days.
Return to work & school: Most patients feel ready to get back to regular nonstrenuous activities 3 to 5 days after the procedure.
Remove splint: A small nasal splint is removed within 7 days of surgery. Dr. Ladner typically doesn't use internal splints or nasal packing, which are often considered the most uncomfortable part of recovery.
Resume exercise: Nonstrenuous exercise is encouraged as soon as possible to help the healing process. Most patients can resume strenuous exercise in about 3 to 4 weeks with special care to avoid impact to the nose.
Go in public: Bruising usually resolves within 10 days. Depending on the degree of swelling, patients are typically ready to attend social gatherings in about 2 weeks.
See results: At 6 weeks, swelling usually has faded significantly. Final results can take up to a year to achieve as subtle changes emerge with reduced swelling.
How Long After Rhinoplasty Will I See Results?
The results of rhinoplasty gradually appear as the swelling goes down. While you'll notice changes immediately, it may take several weeks for swelling to resolve. Subtle changes may continue for up to a year.
Meet With Dr. Ladner
If you're looking for the best rhinoplasty surgeon in the Denver area, request a consultation with Dr. Ladner to discuss your concerns and goals with him. You can also call us at (303) 253-7686 to schedule an appointment.
A Reputation Built on Results
Mary was amazing — been struggling with smoker lines around my mouth and she made me look exactly how...
I'm unbelievably grateful for Dr. Ladner and everyone in the office. I got a rhinoplasty done in 2021...
Dr. Ladner performed my rhinoplasty and endoscopic brow lift 4 months ago, and I am so happy with my...
Dr Ladner is an awesome surgeon! I have had a deviated septum for as long as I can remember, resulting...
Back to Top